KinderSmile Foundation provides free dental care to underprivileged children in New Jersey and abroad, and advocates for the increase in oral care access and oral care education for low-income children. We are a 501(c)(3) non-profit organization. Mission: To advocate for an increase in oral care access and oral care education for low-income children in underserved communities. Goal: The goal of KSF is to help eradicate tooth decay which is the #1 silent epidemic that afflicts economically disadvantaged children in our communities. Our goal is supported by providing age appropriate oral health education and help with access to dental homes to receive preventive, on-going and comprehensive care.
JJ's Story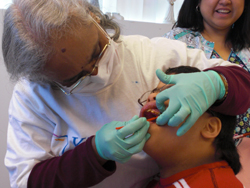 Early intervention and preventive care provided by KinderSmile made a significant impact in a toddler's life. Little JJ was 2 years old suffering from extensive case of Early Childhood Caries of most of his upper teeth and the lower molars. This child, being caught in the custody battle between the parents, had total dental neglect and learning disabilities. JJ suffered through unnecessary trauma and delayed treatment while his disabled grandmother was trying to negotiate NJ State Medicaid Managed Care. KSF intervened, and a referral was made to Pediatric Dentist for total oral care. Treatment included multiple extractions, pulpotomies (root canal treatment) and stainless steel crowns and partial upper denture/ fixed retainer to replace the upper anterior teeth lost to extensive dental caries. JJ is five years old now, very well adjusted and on an age-appropriate learning curve. Child's self esteem was restored when he was able to smile, remain pain-free and chew his food. KSF was very supportive of JJ's Father and Grandmother in assisting with all his dental appointments.
Founder & CEO: Nicole McGrath, DDS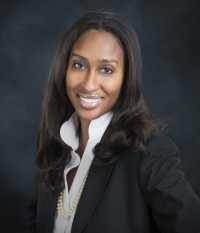 Dr. Nicole McGrath has had an active dental practice in Montclair, NJ for over two decades. She's a tireless advocate in reaching out to at-risk children in her community who lack access to affordable dental care. By 2014, she had provided free dental services to over 8,000 children in New Jersey, and travelled to Jamaica, Trinidad, Haiti, Nicaragua, Peru and Guatemala to donate dental care to children and adults.
KinderSmile Foundation (KSF) was established in 2007 by Dr. McGrath with a vision to advocate for an increase in optimal oral care access and oral health education for children in underserved communities. The goal of KinderSmile Foundation is to implement a comprehensive dental program in programs providing Early Childhood Services throughout the state of New Jersey.
Dr. Nicole McGrath earned her Dental Degree from the University of Maryland, and completed her residency program in UMDNJ, Newark, NJ. She also successfully completed the Leadership Program in 2010 offered by American Dental Association, Institute for Diversity in Leadership, in partnership with Northwestern University Kellogg School of Management.
Dr. McGrath has been a member of the Communication, and the Oral Health Coalition Committees of the NJ Dental Association since 2008. She has been recognized for her commitment and spirit of volunteering by multiple organizations over the past two decades. Dr. McGrath is a Board Member of Advocate for Children of New Jersey (ACNJ) and the Treasurer of Essex County Dental Society. Dr. McGrath is currently Chair of Membership Council of New Jersey Dental Association. (NJDA)
Awards and Recognitions
| | |
| --- | --- |
|   | 2015 - Health Judge North Jersey Chapter of Continental Societies, Inc. |
|   | 2014 - Russ Berrie Award, "Give Kids a Smile Foundation" |
|   | 2012 - NJ Dental Association – "Give Kids a Smile" Pioneer Award |
|   | 2012 - NJ Governor's Letter of Recognition, KinderSmile Foundation |
|   | 2012 - NJ Woman of Achievement Award Recipient, NJ Federation of Women's Clubs |
|   | 2011 - Volunteer Recognition Award by Red Cross, Montclair, NJ |
|   | 2010 - The BD Governor's Jefferson Award for Health Care in recognition of her extraordinary service in her community. |
|   | 2010 - Intrepid Museum Hometown Hero Award, for Community Service for KinderSmile Foundation |
|   | 2010 - Upper Montclair Women's Club, nomination for Woman of Achievement Award |
|   | 2007 - Montclair Child Development Center, Certificate of Appreciation in recognition of extraordinary collaborative support for their Head Start Programs. |
|   | 2006 - Trinity Presbyterian Church (USA), Certificate of Appreciation for her outstanding leadership, unlimited patience and love to all Children and youth of Trinity Presbyterian Church School. |
Program Director/ Secretary of Board: Sara Kalambur, DDS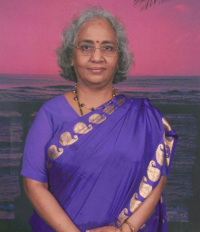 Dr. Sara Kalambur, practicing General Dentistry for 37 years. Known as Dr. Sara to her patients and colleagues, has been serving Hoboken and the Hudson County Community since 1975. She came on board to KinderSmile in 2007 as a Volunteer, serving as Program Director since 2010. Currently a Board Member of Hopes, Inc., a Community Action Agency in Hoboken, NJ with Early Childhood programs for Head Start and NJ State Universal Pre-K. She is an Independent Child Care Health Consultant for Head Start programs nationwide. Dr. Kalambur is involved in Statewide Oral Health Community Outreach Programs and a member of NJDA Oral Health Coalition and Pediatric Oral Health Subcommittee, CMS / Medicaid & Medicare Advocacy committee facilitated by Legal Services of New Jersey in Edison, NJ. Dr. Kalambur also serves as a consultant for nationwide federally funded Head Start programs for their on-site monitoring of health services. She also provides pre-service and in-service training for staff and parents of Head Start programs to meet compliance with Head Start Performance Standards. Dr. Sara also serves on the Board of Indian Dental Association of North America (IDANA) in New Jersey. IDANA-NJ's mission is to serve as a leading dental association for dental professionals in North America – New Jersey. IDANA, as an organization for referral and advocacy in the community, aims to serve for the betterment of oral health for children of all ages and adults. Dr. Kalambur has received recognition and multiple awards for her community outreach activities over three decades from the Head Start Community, HOPES CAP Inc; Hoboken Board of Education, and 'Colgate Bright Smile Bright Future' Mobile Dental Van Outreach.
Awards and Recognitions
Volunteer and Community out reach activities recognition and citations awarded by State of NJ, City of Hoboken, Colgate-Palmolive and Hopes Head Start Hoboken, NJ.
 Martin Luther King Day – SHERO award from Hoboken Charter School.
Volunteer of the year 2004, awarded by NJ Community Action Agencies.
Special recognition for Oral Health Advocacy for children by Region 2 Head Start Association in 2002
KinderSmile Staff
President & CEO: Nicole McGrath, DDS
Clinical Director: Maria Madonna, DDS
Billing Administrator: Jennifer Halliez
Deputy Director, Institutional Advancement: Nicole Panzica
Deputy Coordinator, Community Service Learning Program: Deborah Kanter
Claims Coordinator/Receptionist: Ashley Perez
Program Assistant/Lead Dental Assistant: Niyati Reddy, EFDA
Network Assistant: Casey Zimmer
Staff Hygienist: Monique Whyte, RDH
Staff Dental Assistant: Vilma Hernandez, DA
Receptionist: Denise Guzman
Receptionist: Paula Meikle