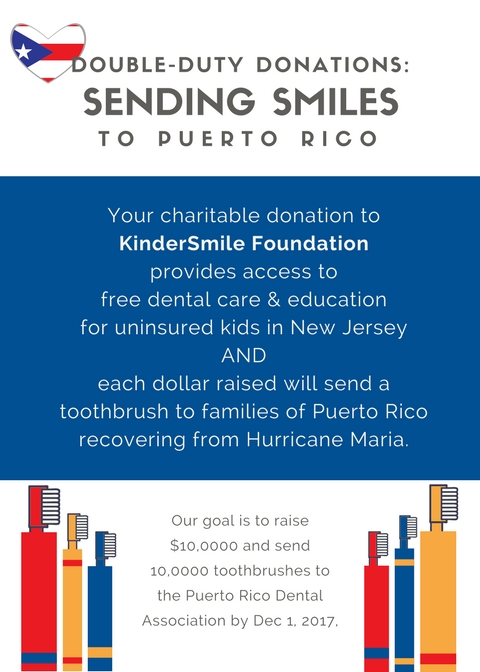 Since the grand-opening of KinderSmile Community Oral Health Center in August 2016, our team has welcomed more than 2,000 previously underserved patients into our nonprofit dental
home. We pride ourselves on treating every single patient with the same level of dignity, professionalism and care to ensure that they all gain optimal oral health, regardless of their level of education or socioeconomic status.
Our hearts go out to the families of Puerto Rico who have suffered through the devastation of Hurricane Maria and been displaced from their homes and routines. In an effort to share our philosophy of "oral health for all," we want to bring back some normalcy to these families and send smiles to Puerto Rico through a multipurpose fundraiser.
For the months of October and November 2017, KinderSmile Foundation will match every dollar donated to the Sending Smiles campaign with a free toothbrush for Puerto Rico. We will also welcome children of Puerto Rico who have come to New Jersey as a safe haven to receive free dental services at our Bloomfield dental home.
You can help us reach our goal of $10,000 and 10,000 toothbrushes by donating online through the link below OR mailing a check payable to KinderSmile Foundation at 10 Broad St, Bloomfield, NJ 07003. Your charitable contribution is tax-deductible.
Donation checks can be made payable to:
KinderSmile Foundation
Mail to:
10 Broad Street
Bloomfield, NJ 07003
---
Thank you to our fundraising partners!

To discuss becoming an official partner of the Sending Smiles campaign, please contact Nicole Panzica at 973-744-7003 Ext. 209 or ksf@kindersmile.org.
---
Thank you to our generous donors, displayed in our dental home!
ToniAnn Ragucci

Nicole Walker
Adela Alfaro
Michael Malcolm Williamson
Omaira Romero
Veronica Fera
Matt Runge
Evelyn Crespo
Adinah Rivera
Jully Vite
Dior Diallo
Ida Delpeche
Tisa Singleton
Katrina Toneyel
Makena Farrell
Ana Garrito
The Knott Family
Ronesa Youngblood