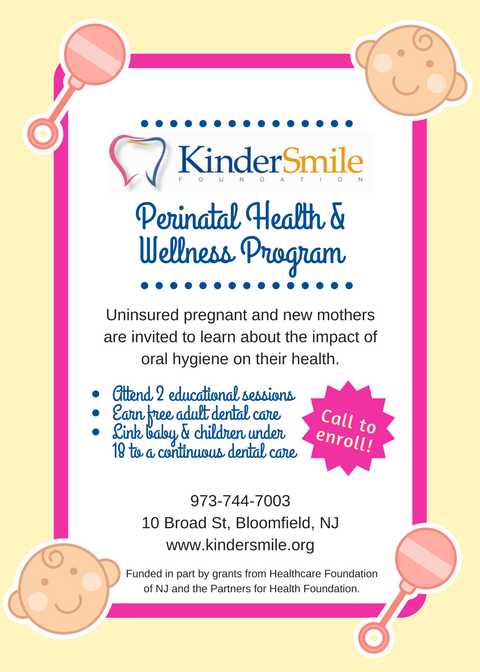 KinderSmile Perinatal Health & Wellness Program (PHWP) empowers women who are pregnant or up to 3 years postpartum with knowledge about oral health and its massive impact on the overall well-being of themselves and their families. Upon completing the PHWP oral health curriculum, these mothers of young children earn 1 year of free dental care at KinderSmile Community Oral Health Center.
NOTE: Effective October 19, 2017, KinderSmile Foundation is not accepting new applicants to the Perinatal Health & Wellness Program.
The next enrollment period for uninsured perinatal women is March 2018.
Due to the overwhelming need of perinatal women in Bloomfield and suburban Essex County, the resources to educate and treat uninsured moms free of charge have been completely expended.
Thank you to Partners for Health and Healthcare Foundation of NJ for sponsoring the pilot year of PHWP, resulting in the successful education and treatment of approximately 90 uninsured women from October 2016 – October 2017.
Click here to download our 2016 Annual Report to read more about the impact of this program.
Participants from the first cycle will continue to receive free dental care at KinderSmile Community Oral Health Center for 1 full year following the completion of their educational sessions. Please contact Ashley Perez at 973-744-7003 Ext. 200 with any questions.
Please consider donating today to support this crucial community resource.
---
If you need to visit a dentist ASAP:
Although we have paused the PHWP classes until March 2018, perinatal women are welcome to register as patients at KinderSmile Community Oral Health Center. Whether you are uninsured, have Medicaid, NJ FamilyCare or private insurance, you can receive comprehensive oral health services at our dental home in downtown Bloomfield center.
Click here to view Patient Eligibility and preview our affordable fees for service.
Click here to book a dentist appointment online or call 973-744-7003.
---
Why KinderSmile Perinatal Health & Wellness Program is needed:
When low-income pregnant women receive NJ State Medicaid benefits on a temporary basis, the covered benefits are only pregnancy/labor/delivery related. Oral health care is not included as part of pregnancy-related services despite the proven link between dental health and overall well-being.
An uninsured pregnant woman who cannot afford to pay for her dental care and has to endure the pain and suffering of untreated dental infections during her pregnancy or beyond her postpartum status is more likely to delay prevention and early intervention for herself and her young infant. This creates an environment of unhealthy habits that will afflict the whole family.
We launched PHWP in June 2016, in order to break the dangerous cycle of untreated dental diseases passed from generation to generation and to improve local rates of linking children to a dental home by age 1. We empower perinatal women with informative, personal, culturally sensitive training about the importance of maternal oral health and its impact on the developing fetus and infants/toddlers under the mother's care. Participants who complete the required two hours of oral health training become ambassadors of healthy habits to their communities, and they are eligible to receive all recommended follow-up dental care at KSCOHC, free of charge.
In addition, all of their children from birth through 17 years will be linked to KSCOHC for a continuous dental home. We currently partner with more than 13 organizations in Essex and Union Counties to reach at-risk perinatal women.
Feel free to download our flyer and share it online or in print.
Download: KinderSmile Perinatal Health & Wellness Program
---
Topics explored by the PHWP oral health curriculum:
Impact of maternal health on the developing fetus
Caries disease transmission from the care givers to infants and toddlers
Effects of early childhood caries
Inappropriate use of baby bottle and sippy cup
Age/ developmentally appropriate daily oral care for infants and toddlers
Initial dental visit by age one
Benefits of fluoride varnish and fluoride supplements for children living in non-fluoridated area
Importance of good nutrition
If you are a parent who has questions about your own oral health or that of your children (of any age), please call our offices to speak with a program coordinator: 973-744-7003.
---
Stay in touch:
To receive notifications about the next enrollment period for KinderSmile Perinatal Health & Wellness Program, please subscribe to our newsletter by completing the form below: