Student
KinderSmile Community Service Learning Program (CSLP) offers mentoring and guidance to high school/college students to acquire leadership skills, and to share in the mission and goals of KinderSmile Foundation. CSLP members have the option to participate in internships with the foundation, to help teach children oral hygiene at KinderSmile Community Oral Health Center, and to volunteer at local health fairs and community events such as Give Kids A Smile Day.
Dedicated volunteers of CSLP apply to elevate their roles within the organization by becoming Junior Board members. These select members serve as ambassadors for the program in both New Jersey and abroad. As Junior Board members, students become aware of the lack of access to oral health among at-risk children and families and the impact on their overall health. They gain a greater appreciation for their blessings by visiting under-developed countries in an annual service trips to places like Haiti, Jamaica, Grenada and more.
Dental Professional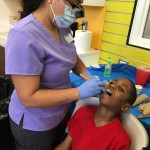 Give Back  a Smile is a volunteer program that invites dentists, hygienists and dental assistants to donate their services to the uninsured population at KinderSmile Community Oral Health Center.
This is unique platform for community service by providing treatment to local children who would otherwise rely on emergency dental services. We are recruiting all licensed dental professionals to join us in a collaborative, county-wide volunteer effort to close the gap in access to oral health care for uninsured children.
Helping Hand
Not a student or a dental professional?
If you believe in KinderSmile Foundation's mission of increasing access to oral healthcare for underserved children in our community, please do not hesitate to contact our administrative office at ksf@kindersmile.org or 973-744-7003 Ext. 209.
We have a multitude of projects running all year round, ranging from community outreach to fundraising, and we always welcome a helping hand. As Founder Dr. Nicole always says, "It takes a village!"
Thanks for your interest in supporting our mission.